more igal
I'm mostly just sad for myself, that I lost a friend, a collaborator and one of the people who make the world a better place. He gave me one of his compliments in the style that he always did — he one day out of the blue told me that I was the kind of person that other people followed because I had such high expectations. He also said that my expectations were impossible and...
igal is dead.
I am sad, but I am ok. Reading twitter is heartbreaking. Igal was a close friend for a couple years, and then I only ran into him occassionally over the last couple of years. He was such a kind, talented, loving person. He grew up in Israel and moved to the US. He said never really got over this sense of displacement. My husband had a long conversation with him one night last year. That's...
1 tag
That one time, when I went to the trainer dude for...
I've learned that: I don't like standing up the way that most people do I remember things better when I write them down (but I knew that before) Redos on major muscle groups hurt and are hard and take a long time So, I did my assessment of stuff today and will be re-assessed on progress in about 5 weeks. Just in time for Christmas! I've got some sweet xrays now, and more of...
The word of the day has suddenly gotten really...
On day it's 'true', the next 'hirtellius'. Or 'hamartia'. I used to pride myself in knowing every word. No longer! It's week 3 at Mozilla and things are good. I am settling into a rhythm. My list of things to do is already pretty long. I have fixed a few problems and have a pretty good understanding of Socorro's schema. Git workflow for...
Someone asked....
What we wanted from an anarchofeminist collective. And I just realized: I want a place to tell stories where no one is going to call me a fucking liar.
Gender bias in physician hiring is real (proved... →
I hesitated to share this, only because I am getting fatigued with the arguments made in the comments on this post, and a relate one from the sister of the author. Fortunately, I don't get many comments here :) I was reminded recently that even people who believe in theory in equality will make horrifying comments about pregnancy and maternity leave. My experience over the last two...
I read an inspiring profile of Barack Obama →
The quote that stuck out to me was: "And he has a tendency, an unthinking first step, to subvert established stat­us structures." I love that.
sqeeeeeee →
And now...
Started creating accounts and reading up on things. Just reading the manifesto now: http://www.mozilla.org/about/manifesto.en.html And the release of the health report: https://blog.lizardwrangler.com/2012/09/21/firefox-health-report/ And tried to set up a bugzilla account, but email doesn't seem to be coming in… lol. Maybe it's time for a movie.
trying to figure out if it's worth preserving...
I've been fixing up a tool that migrates data from wordpress into a new blogging system, and not really loving it. Then I started looking at blog posts from a few years ago, and noticing that most of the things that I'm linking to in blogs are now busted. Particularly anything on oreilly Radar. So… what to do. Should I bother preserving all this old stuff when it's...
A day spent with logs
I dug out some old scripts people have sent me and started looking at the contributor lists again. 9.1 and 9.2 had somewhere around 300 contributors.. with 9.1 having slightly more mentions of people's names - maybe about 40. I am not sure yet whether this is because of responses to bug reports, or maybe just that more people got mentioned. One thing I talked about a bit with folks at...
return to the long form
I've been having trouble lately writing. My guess is that this is because of twitter. It feels like all that tweeting has rewritten parts of my brain and attention. So, twitter, you're going to have to go. At least for a bit. What's great about this interface is that I can send these from my mail client (which is also getting an overhaul… pending arrival of a shiny...
On the road again
Headed to Chicago for a week, and then to Mountain View. I am looking forward to a month or two of quiet at home after that, working through the backlog of things put aside for months or years in the house. But meantime, I am getting to meet with my colleagues in PostgreSQL for the first time this year because I didn't go to PgCon this year. I am glad its happening, and hopefully I...
morethanbromance asked: will u ever give yur url away
santanaslopezs asked: hello there i was wondering if you were still using the URL selenamarie? and if you wern't I could take it off your hands? thank you. <3
Notes EM: Prison reform according to Eric Schmidt →
evgenymorozov: From Harvard Business Review's "List of Audacious Ideas for Solving the World's Problems": "Technology could also help get nonviolent offenders out of jail faster, so they could begin their reintegration into society. Tamper-proof ankle bracelets that offer GPS tracking and constant monitoring…
The last two weeks have been insane
I've got a number of blog posts queued up in my head:  Activist behavior design from the perspective of open source consultants to the military (!!!) Institutional change vs grassroots mobilizing, and how the activities compliment each other, but how the leaders frequently come in conflict when approaching problem solving from such different perspectives Asking for help the right way ...
The last day with the kids
I spent the day clearing out my husband's room and talking with his kids on their last day of school. A choir teacher had her hours cut in half this week, so kids were staging protests by performing songs together for the administration office, and then for all the teachers. It was so hard to listen and watch without crying. The kids came in and out of the classroom all day, saying...
Comfort in the storm
http://www.jofreeman.com/joreen/tyranny.htm I keep coming back to Jo Freeman's rant about form and function. Give yourself a little gift this Friday, and read it with a nice cup of coffee or hot cocoa. Take a minute and just let the reason and careful thought and years of experience wash over and renew your activist spirit. Also, this adorable bunny. Clay Shirky commented on a blog post I...
2 tags
Interviewing
Choosing Participants Representative of target users or may be users of the current or similar system. May be non-users. Might need to pay people — in the bay area, $50-100/interview. Could maybe offer a token of appreciation in exchange instead if you don't have cash. Approximate the participant profile you need if necessary. The importance of being curious Convince yourself that...
Participant Observation
Apprentice Hardware technicians — most effective technician was who had been there the longest.But the second most effective technician was located NEXT to the person who had been there the longest. Just by observing, you pick up all the skills/tools that aren't written down/documented. Set up partnerships with people you want to observe Be taught the steps in the process Observe...
2 tags
The birth of HCI
Vannevar Bush - instrumental in setting up large-scale government research. Instrumental in creating: National Science Foundation and ARPA. Wrote about Memex in 1945. Invents hypertext as well ("trails" through the microfiche!). Knowledge workers need to create as well as consume. And you wear a camera in the center of your head to capture things. :D Grace Hopper created the first...
2 tags
Evaluating design: empirical methods
How do we measure success? Simple question, complicated answer! It's difficult to tell how good a design is, until we evaluate designs with people. Hard to predict what real users actually do. Start with defining what some of the things you'd like to know.  Need lots of different methods to achieve different goals. Usability Studies (on a spectrum of informal/formal) Advantages:...
2 tags
Prototypes are questions. Ask lots of them!
Notes form the second video: How to think about Prototyping: "A question rendered as an artifact" The goal in prototyping is *feedback*, not the prototype itself.  example: Kodak DC210 Plus Digital Camera Prototypes should nearly always be incomplete. "Prototyping is an efficient way for dealing with things that are hard to predict." Our intuition is often wrong. ...
2 tags
starting with the HCI course from coursera today
Just got through the first video. The idea here is to teach people "pretty good" design, so that we can save 1 billion people an extra 10 minutes on all these interfaces they try to use every day.  Let's just stop wasting people's time with horrific design, 'k? :) Liking the tone of the course so far! And Users are just one stakeholder — also the...
When I try and explain what I do, I'm like
runningastartup:
Engineering at Kiip: A Year with MongoDB →
kiip-engineering: This week marks the one year anniversary of Kiip running MongoDB in production. As of this week, we've also moved over 95% of our data off of MongoDB onto systems such as Riak and PostgreSQL, depending which solution made sense for the way we use our data. This post highlights our experience with…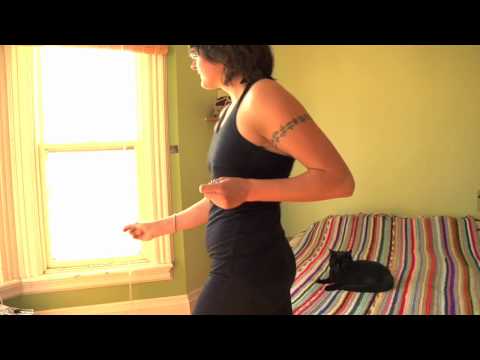 I spent today mostly stag. I went to Jessica's for brunch, and hung out with a bunch of people from Code for America. I was a bit of a wallflower, but did some pan cleaning, ate some awesome food and chatted briefly with Jessica about how awesome Portland is.  I went walking and then took a train down to Fisherman's Wharf. There was an adorable kid on the train, shouting and...
Enjoyment, appreciation, love
I had the best talk with a friend of a friend who challenged my assumptions about electronic music, by pointing out the performance aspect was probably the least important and least enjoyable thing. And i have been reading a process improvement book that is blowing my mind. Quality research is my favorite fucking thing ever! I can't believe i hadn't figured this out until now! What I...
Insecurity
Yesterday is the day where I realized how concerned I am about failing. I mean, I am terrified I am going to fail. I wrote an email and sent it out to a list, and I got four unsubscribes. FOUR. PEOPLE.   I mean, it's not the end of the world, right? Right?  But it kind of feels like it. So I turned off the alarm for new mail, and I walked outside.
brightestsmile asked: hi can you please please give me your url?!:D
"Saying Pinterest is popular because women like to shop is like saying sports are..."
– http://clevergirlscollective.com/kristy-sammis/pinterest-sexists/
biology and reproducibility in data analysis
This talk just seems to be about testing to me. :) http://videolectures.net/cancerbioinformatics2010_baggerly_irrh/ I don't know why I keep coming back to this. Maybe it's that it seems like he is presenting an idea that shouldn't be controversial. Maybe it's the obvious excitement for analysis and a very nerdy subset, of a very nerdy topic. 
"And you know how there are people that, when they realize that vulnerability and..."
– Brené Brown's TED talk about vulnerability.